Whether Quest Jurassic era dinosaur nest, or go to outer space to find aliens, or to a "Resident Evil" …… multiplayer interactive games 7D movie definitely meet people of all curiosity, as an emerging industry, It appears to the traditional ordinary theater into a shot in the arm, once launched on the market has been strongly sought after, triggering another round of movie entertainment consumption boom. As an emerging industry, business 7D interactive Cinema experience hall on fire.
Multiplayer interactive games 7D theater is based on 4D, 5D theater on the increased interactivity of the film, is 4D, 5D cinema upgrade alternative. Can bring a strong sense of audience participation, with a strong entertainment properties. By closely integrated dynamic seat and videos, sync experience wind, rain, thunder, lightning and other natural phenomena, with the plot changes, the seat will bring a different sense of vibration, so that the audience really feel like a wonderful through time and space enjoyment. And theater with a leading 3D stereoscopic imaging, human-computer interaction, video player, audio control, acoustic control, high-tech, is a model of modern systems integration technology. Not only can play multiplayer interactive games 7D interactive videos, you can also play the traditional 3D, 5D sources. And because each viewer has a different seat position based on a unique ID and the real picture, the computer will automatically give different points based on the participation of the audience, the audience and really feel that they participated in the film, with After re-viewing audience interactive competition and participation have been inspired impulse out, joining multiplayer interactive games 7D VOD does not want to make money is immune, the project will not succeed
Experts predict that the development of the film industry will not stay, multiplayer interactive games 7D movie will be the product of the times. Therefore, the current investment multiplayer interactive games 7D cinema is an investment trend of social development, development of investment frontier era. Successful businessman summed investment advantages, as investment trends, determine the direction of vision, direction must be the future, so choose a good height, invest in a trend, definitely will gain more wealth. Multiplayer interactive games 7D dimensional dynamic movie as a new field, is a novelty, novelty generation will accompany opportunities arise. So invest multiplayer interactive games 7D do your private business can certainly be 100% profit.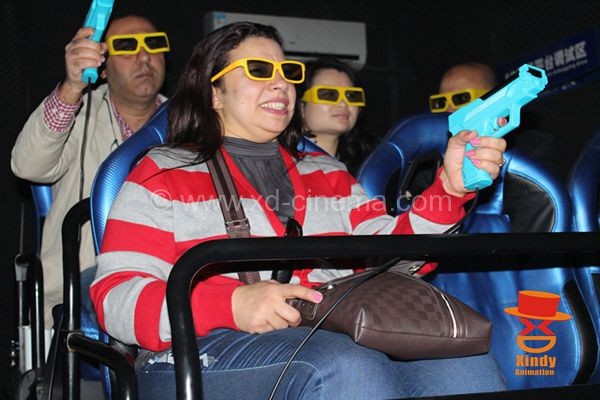 Guangzhou Xindy Animation Technology Co.Ltd. designs and manufactures the full set 5D cinema equipment with the outside cabin.Based on more than 14 years of Industry technology experience, a number of specialized technical skills and a contingent of skilled staff team, we devotes ourselves to the research and development, manufacturing and sales of 4D cinema system, 5D cinema,6D cinema theater, interaction 7D cinema,truck mobile 9D cinema,park cabin 11d cinema Systems, 5d 6d 7d Cinema Theater.
Guangzhou Xindy Animation Technology Co., Ltd.
WhatsApp:+86-18520136489
Tel: +86-20-66823619
FAX: +86-20-66823620
E-MAIL:michael@7dcine.com
Address: Address: NO. 8 LiMing Street, Da Long Street, Shiqi Town, Panyu Disctrict, Guangzhou, China