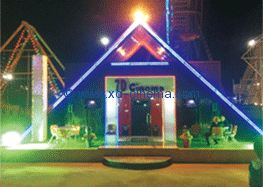 ROI (Return of Investment):
The following is the ROI for 6 seats 5d cinema For each film only lasts for 4-15 mins, And most of the films is 4-7 mins. Each hour you can play 7 times, just suppose each time you have 4 audiences, and each ticket is USD 4. Everyday your cinema opens 5 hours. So one day you'll get total 4x4x7x5 = USD 560. Each month you'll get USD 16800.(If you increase the openning time per day, sell higher price for the ticket. attract more customers, sure you'll earn more)
Why Choose Us?
A. Based on more than 14 years of Industry technology experience.
B. Customers from more than 130 countries.
C. Successful cases from dozens of countries's cinema equipment.
D. All-around Marketing and after-sale program.
E. Professional team offers technical support to customers.
F. 24hours online serivces from our professional foreign trade department.
G. All our cinema system equipment passed the CE SGS TUV certificate.
H. Our technicians go to different countries to help customers solve problems.
Choosing ZhuoYuan, you will get not only the products, but also the better service, and better operating mode.