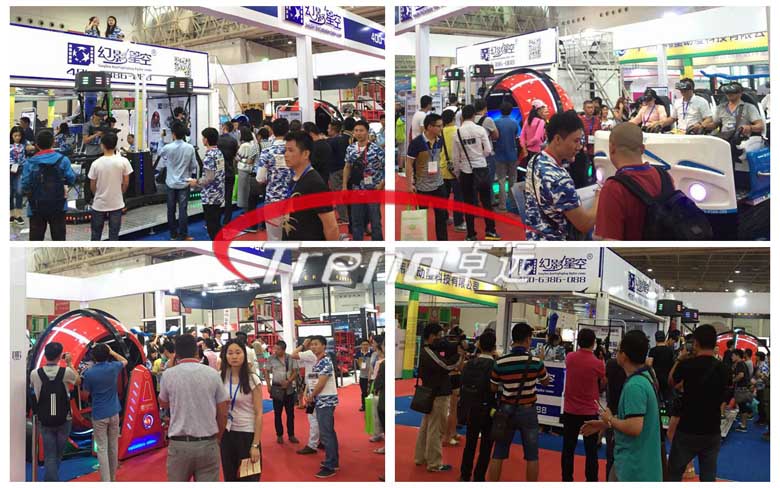 Chinese-made products on display at the Canton Fair are taking on a new and trendy image thanks to the introduction of cutting-edge technologies such as vr.
One of the most crowded stands at the consumer electronics and information products pavilion displays two gaming machines, which are said to use "9D VR" technology.
The stand has had a constant stream of visitors every day since the first phase of the fair-officially known as the China Import and Export Fair-kicked off on Friday in Guangzhou, Guangdong province.
Visitors can enjoy the thrilling experience of riding a roller coaster and firing a rifle on a battlefield, wearing a VR headset, standing on a moving pad and holding a toy rifle.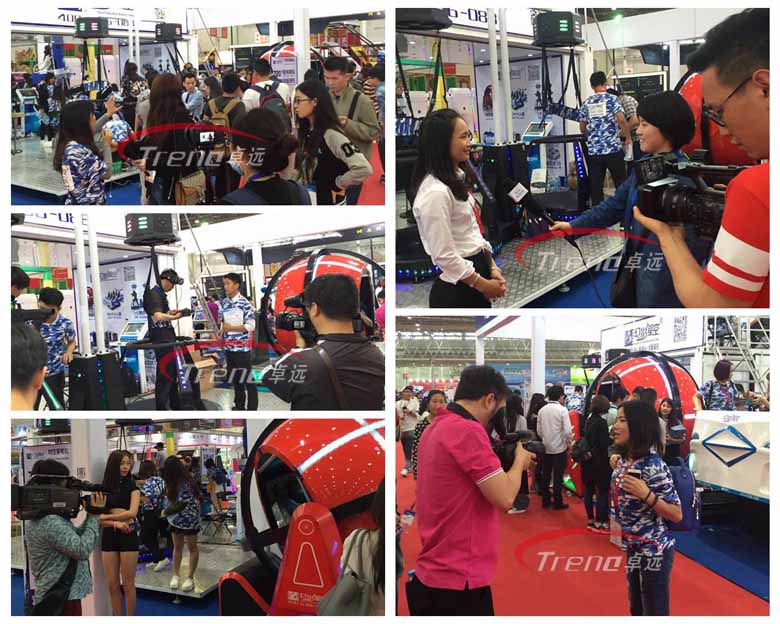 Liang Xingmei, a sales manager of game machines' maker, Guangzhou Zhuoyuan Machinery Co, said that the number of orders her company has received at the Canton Fair this year has increased at least 30 percent compared with the previous session of the fair in October.
The company was founded as a manufacturer of hydraulic systems 16 years ago and entered the multi-dimensional gaming business around 2009, and released virtual-reality simulators last year.
It displayed its VR simulators at the fair for the first time during the autumn session last year and expected a greater boom in transactions this year.
"We are one of the few Chinese companies that can make a full set of VR simulators rather than offering a headset only," Liang said.
"Virtual reality is the hottest technology in consumer electronics and the Canton Fair needs such new products to maintain its appeal to overseas buyers," Liang said.
Malik Imran, marketing director of Imar International, a trading company based in Pakistan, has attended the Canton Fair for five consecutive years and said that he is excited to see "something new".
"I came to the fair looking for machinery products but found the VR simulators quite attractive. I think they will have a market in Dubai," Imran said, adding that he would visit the company's factory in Guangzhou's Panyu district for further negotiations on the deals.
"The fair may lose its appeal if it just plays the card of competitive prices and doesn't offer something new," he said.
Organizers of the Canton Fair have been stepping up their efforts in recent years to explore new fields such as new energy, pet goods and outdoor spa facilities.
Wu Maorong, a salesperson from Shenzhen SAMTECH Co Ltd, agreed that it is important for Chinese manufacturers to keep up with the latest trends in the international market and make good use of the Canton Fair to promote their products.
The stand of Wu's company also has VR headsets on display and has attracted many visitors from Europe, the United States, South America and Southeast Asian countries, Wu said.
(This The above story is reprinted from china daily. http://www.chinadaily.com.cn/business/2016-04/19/content_24648690.htm)
If you want to know more about the VR simulator. Please leave your  message, we will contact you as soon as possible!