VR Price In pakistan
The VR Racing Moto is really welcomed among boys and men,in pakistan they are like the racing feeling. In the real world, you are not allowed to over speed in a high way, but in the real world, you can as fast as you want. It's very safe for you and for others! From the outlook, this is with a fashionable streamlined body, this rotating blue light strip simulates the wheels. And in here with wind effects, when you speed up, the winds will out.
If you start the business with this mode, it will only need a 2 sqm place. If your space is limited, it would be suitable for you. And this VR Racing Moto can also battle online. You can start a fun journey full of exploration in a colorful and realistic environment.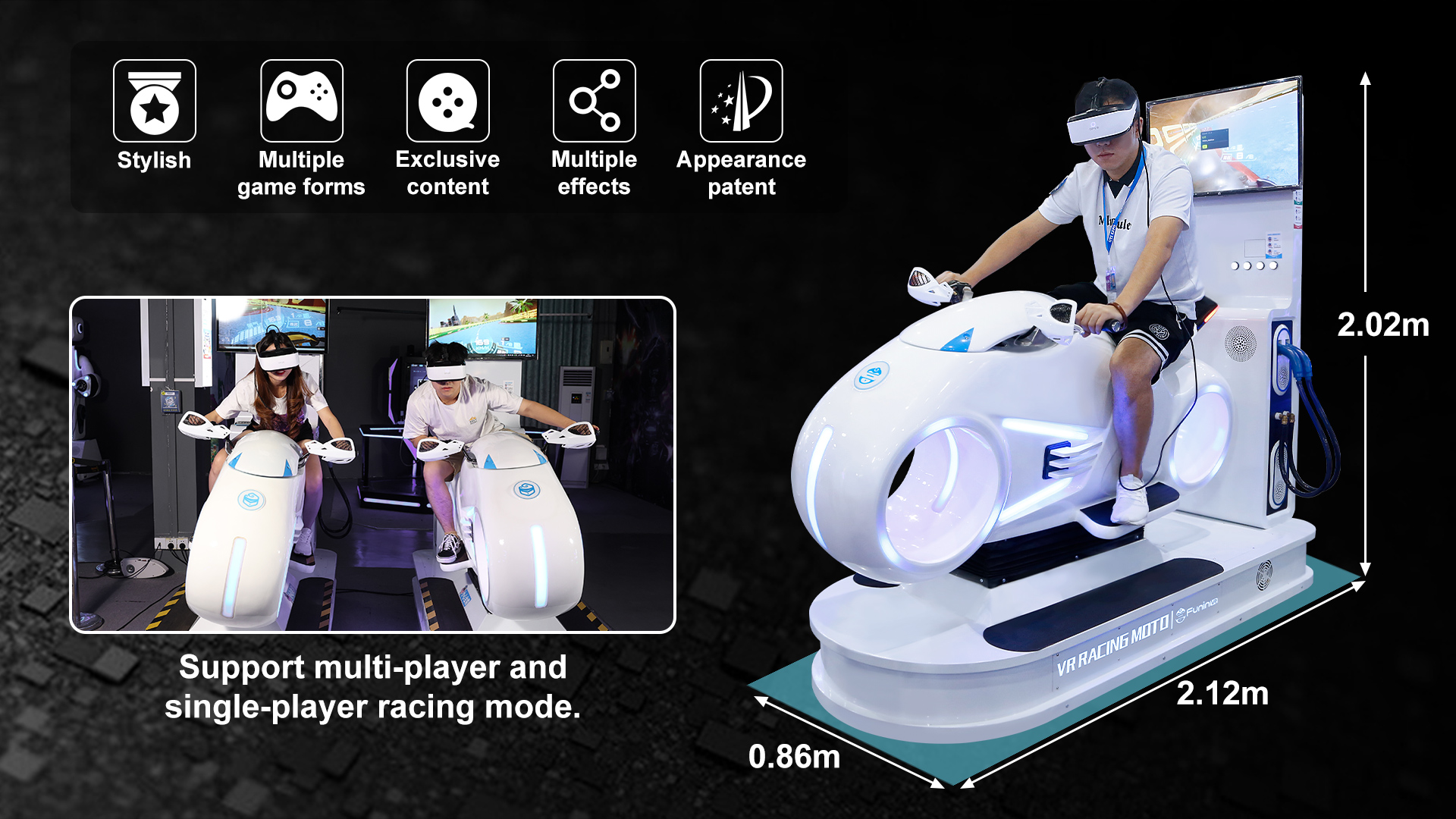 Parameter
Name
VR Price in pakistan
Brand
Zhuoyuan (FuninVR)
Color
Blue with White
Rated power
0.7kw
Input voltage
220V
Specifications
2.12*0.86*2.02m
Weight
290kg
Helmet
DPVR E3
Warranty
1 year warranty
There are 5 advantages for your business if you choose FuninVR as your business partner.
The product quality is guaranteed, each produce step with a specific person, responsible for every detail.And all existing products have CE certification. And we are the industry's first ISO9001 quality management system certification.
2.We will set up a 5-to-1 after-sale service group for each deal concluded customer, which is composed of our operation director, after-sale customer service executive, after-sale technician, sales manager, and sales director to guarantee the service of each store,
to ensure that when the customer can't contact the sales manager and after-sale technician, the backup personnel can follow up in time, and monitor the timeliness of the services.
3.FuninVR wholly owned 3 content teams and investment in 7 content companies, a total of 200 people, vigorously develop copyright content.That ensure us to update the games to customers timely,
which means customers can keep the stickiness with the consumers and increasing sales.
4.The exclusively developed phantom star crank technology, compared with the traditional electric cylinder, the electric crank has a longer operating life and smoother movement, giving customers a more realistic simulation experience.
We have a professional operation team, that will hold operation training twice a year. In the early stage, professional and free store opening guidelines will be provided,
such as store location,product matching, decoration design, etc.,
so that newcomers in the industry can easily open stores. After the store opens,
it will also provide customers with marketing guidelines,
holiday poster planning, and other activities.
Besides, we will provide game updates and after-sales support in a timely to solve customers' worries.
If you want to know more about the vr simulator . Please leave your message, we will contact you as soon as possible!