Family 6 seats 9d cinema VR dark mars in the U.S.
What kind of VR equipment can let many people experience different types of games? The answer could be 6-seat VR dark mars. You are like entering an amusement park, the difference is that you can experience roller coasters, dinosaur themes, flying movies and racing movies and so on by one VR device.
From appearance,the whole is a cool and fashionable tank shape,6 seats allow more people to experience at the same time and improve queuing efficiency.
Multiple combined special functions: blowing, shooting, sweeping legs,back and buttocks vibration etc., which could let you more immersive through interaction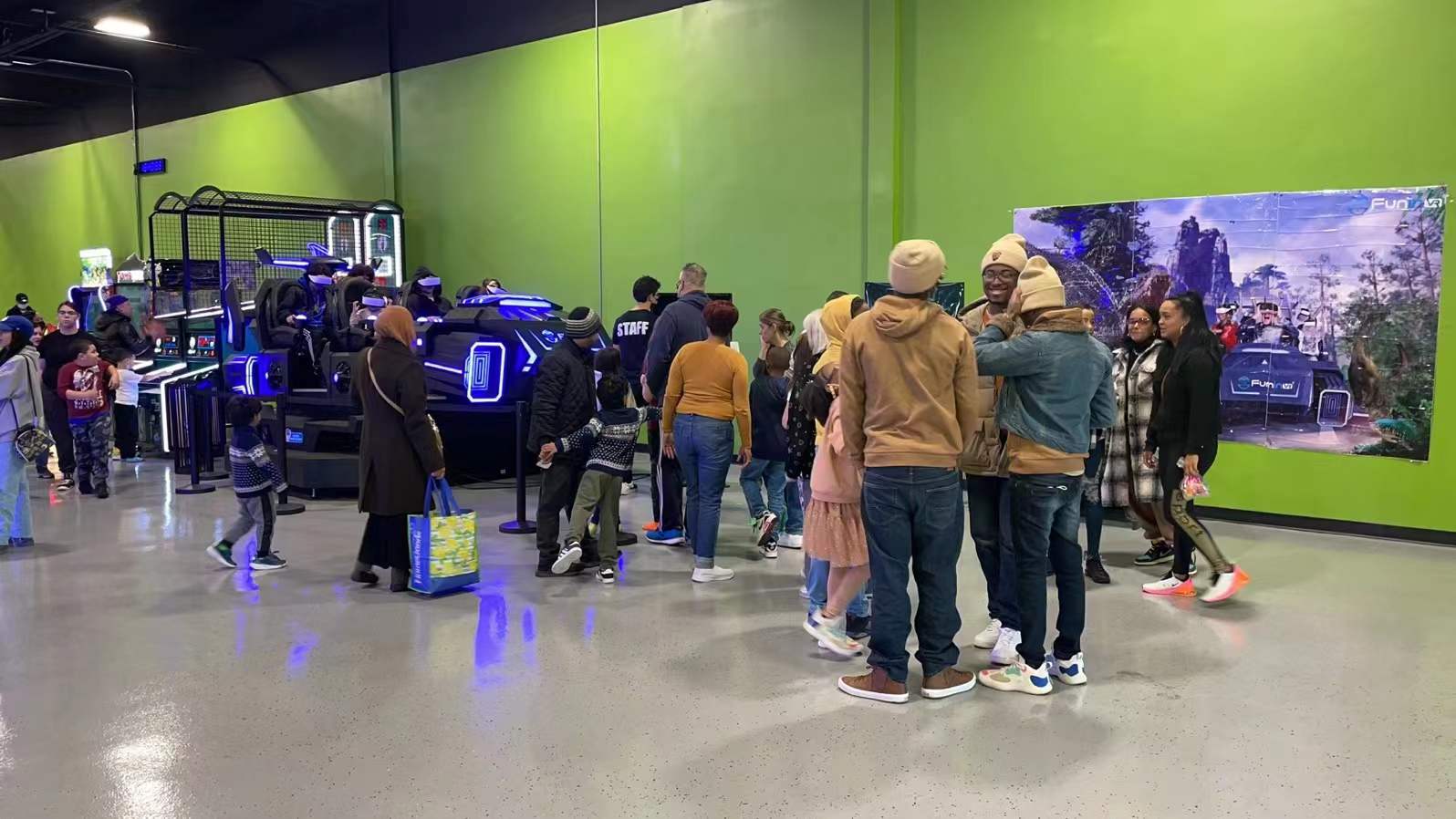 The variety of games makes you want to keep trying other more interesting videos.
Parameter
Name
Family 6 seats 9d cinema VR dark mars in the U.S.
Brand
Zhuoyuan (FuninVR)
Color
Blue with Black
Rated power
3kw
Input voltage
220V
Specifications
4.2*3.7*2.4m
Weight
1500kg
Helmet
DPVR E3
Warranty
1 year warranty
You can use this device to get high profit quickly. As your cooperate partner,FuninVR provides the following support:
We have been in the 5D 7D cinema and VR industry for more than 10 years and with 30000 square meters factory, so our production crafts are very mature and bring you high quality products.
What we provide is guaranteed product. Hardware and software with multiple CE and ISO certifications and patents are independently developed by FuninVR.
Exclusively developed and patented crank structure reduces maintenance costs and time. The load-bearing capacity and longer operating life gets better compared to traditional electric cylinders.
We provide continuous game updates.Our R&D center and cooperating content companies will continue to provide you with high-quality and clear games, and we will update you 4-6 different types of games for free in the first year.
We also provide one-stop service for you. Our operation team will provide market analysis and opening guide in the early stage, so that you can have a clearer direction for VR business. After you receive goods, we will provide operation training twice a year, you can obtain more operation skills and improve event planning ability,which will let you increase your turnover quickly, then you can expand your business and capture market share. In the early stage, our design team can make layout drawings and decoration drawings for you for free,then we can make posters to help you do more promotion.
We will builda 5-to-1 after-sale service group for each deal-concluded customer, which is composed of our operation director, after-sale customer service executive, after-sale technician, sales manager, and sales director to guarantee offer better after- sale service for you. When you meet problem,any of us can help to solve the problem for you in time to ensure that it will not affect your business.
If you want to know more about the vr simulator . Please leave your message, we will contact you as soon as possible!