VR Enthusiasm
Recently the blockbuster
Ready Player One
, directed by Steven Allan Spielberg, has become the most-talked movie, especially among the young. Why? Because the movie throws people the stunning concept of a splendid and very futuristic virtual world can be built through virtual reality(VR) technologies. This movie mainly talks about that people in the near future can not or maybe have no willingness to solve the tones of problems they came cross with in real life. Then they choose to escape from the reality but dive themselves into the virtual game wold.
What is VR?
So, are we close to that fantasy world presented in the movie? Not just Far from. However, the virtual reality(VR) tech has already come into our life and been commercialized into application in wild area. Though VR is already a relatively matured tech, to many people, however, it still comes as a novel notion. Virtual reality technology is actually a type computer generated simulation system through which a virtual space can be created and experienced. Via computer simulation, it produces a simulated environment, one integrated with multiple sources of information, making an immersive and interactive world possible.
VR Entertainment Industry & Market
Just like the rise of internet in 20th century, the VR technology is widely believed as one of the most potential and promising technologies in the approaching future. We can safely predict that VR is going to be welded into nearly every part of people's daily life in not distant days. Entertainment, for example, now already becomes an area where VR applied most. There are numerous focus areas in VR entertainment, but the VR gaming is still the main sector. The rapid penetration of VR will deal a heavy blow to the traditional gaming industry and eventually will knock the latter out of the market. Obviously, anyone can see that the VR entertainment is a huge market, and far from fully tapped. People who have the wish and vision of entering and making profit from this emerging market should take actions as early as possible.
Guangzhou Zhuoyuan, a trustworthy VR Profit Solution Provider
Guangzhou Zhuoyuan Virtual Reality (VR) Co. Ltd.(its sub-brand FuninVR is a pioneer in VR industry) has established in-depth strategic partnerships with many world' s renowned companies including Intel and HTC, who are heavyweight players in VR arena. Guangzhou Zhuoyuan has been an active player in dynamic simulation technology area for 19 years, it specializes in designing and manufacturing high-end and quality virtual reality equipment.
Guangzhou Zhuoyuan till today has rolled out various series of VR products including the classic Dark series,Lucky series, Enjoy series and 5D/7D movie equipment. All these products are tailor-designed to cater to the expanding VR market and can be molded into Zhuoyuan's "VR+" modes including VR+KTV, VR+Scenic Area, VR+Library, VR+Real Estate, VR+Theme Park and VR+4S Store. Customers are welcome to cooperate with Zhuoyuan to open an authorized franchise and start making profits.
Product Show of VR Products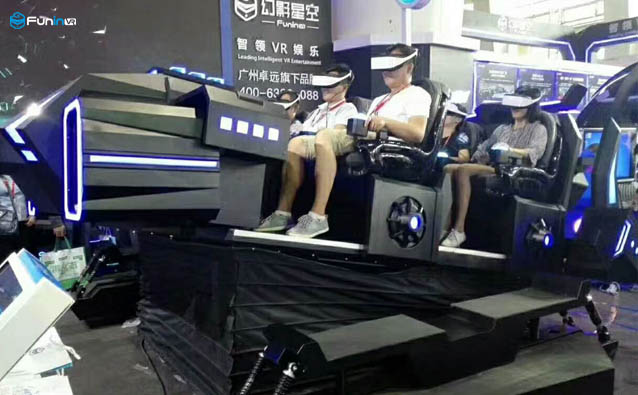 * A Must Choose For High Area Effectiveness
* 360°Full View, One Product For Multiple Entertainment Purposes
* High ROI, Six Players In One Round
* Patented Crank Drive System, Smooth Running & Durable
*More Real Experience Via Multiple Effects
*Sci-fi Mecha Equipped With Eye-catching Tail & Spot Lights
Eagle Flight VR
* In-built Extreme Sports Including Fight, Skiing and Skydiving
* Comes with Customized 3A Interactive Games
*Designed With Crank Drive Tech, Smoother Running and More Durable
*Futuristic & Cool Mecha Appearance
Case Show of 5D/7D Cinema
Jining Colorful the Mix, with a floor space coverage of 1136 acres, was set up with different recreational facilities including roller coaster, big pendulum, 7D cinema, training base, high-end CS fighting ground and some other kids amusement facilities. Cooperated with FuninVR, Jining the Colorful the Mix purchased 48 seats 5D cinema and 9 seats 7D cinema(deluxe edition) which became the amusement park's the most welcomed entertainment facilities. Every time the two cinema are filled with exciting audience, the daily audience reception reaches 2000 people.
Shanghai Gucun Dinosaur Park, equipped with advanced Hollywood technologies, has various kind of life-like dinosaurs presenting visitors breathtaking "dinosaur fights" once happened in ancient times. With the help of FuninVR's 5D dynamic cinema, visitors can have a zero-distance contact with dinosaurs in virtual scenes. According to statistics, the number of received visitors in a single day is 5000.
Do you want to know more about the virtual reality simulator,  please leave your message, we will contact you as quickly as possible.