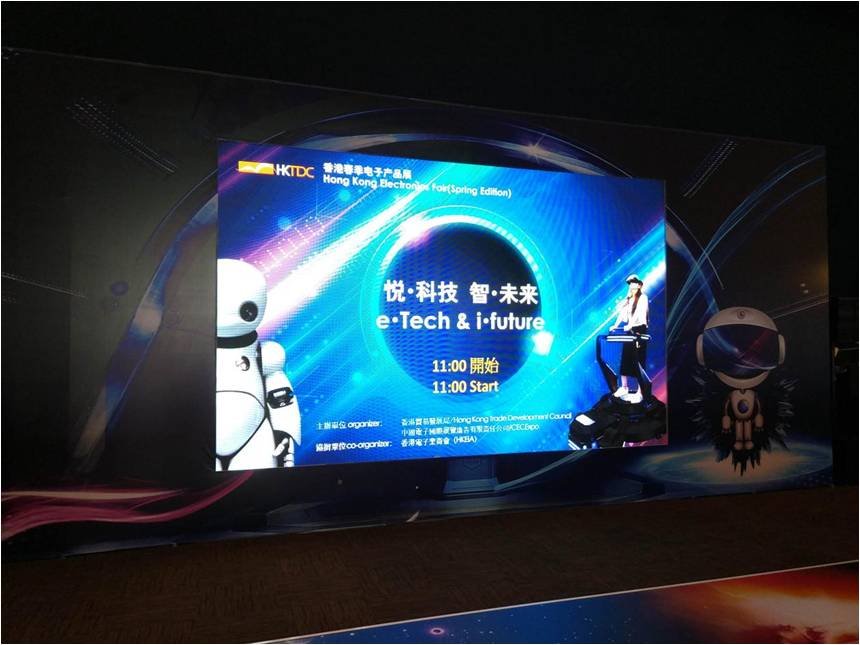 On April 13th , 2018, the Hong Kong Electronics Fair(Spring Edition) & International ICT Expo , the largest and grandest fair in Asia, Kicked off at Hong Kong Convention & Exhibition Center. The four-day exhibition, lasting from April 13th to 16th , allured participation of more than 3500 companies from 23 countries and regions. They not only showcased the up-to-date technologies and smart gadgets but also introduced all the exhibition visitors the most innovative concepts on tech which would definitely contribute to the upcoming future.
Funinvr, the sub-brand of Guangzhou Zhuoyuan, was also the participator at the exhibition. A fact should be mentioned is that Fuinvr's attendance was not on its agenda, it was actually invited by the exhibition organizer because of its industry influence. Li Minli, the sales manager & head of Funinvr's delegation to the exhibition, was invited to made a speech on VR entertainment products and an introduction on VR products manufactured by Guangzhou Zhuoyuan.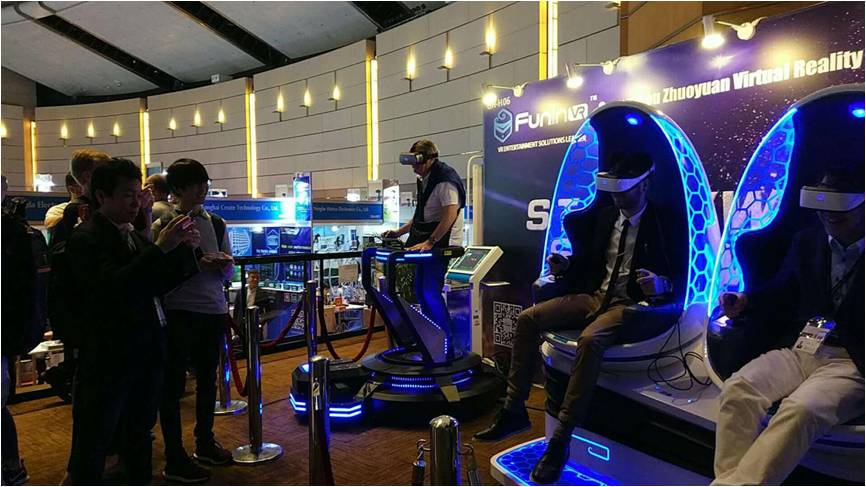 Funinvr this time brought the exhibition(Booth Number: GH-H06) two VR products, one was the Star Twin Seat VR, the other one was the Vibrating VR Simulator. The two VR products both have features like compact in size, high ROI on area effectiveness and sci-fi outlook design, they are both quick sellers on VR entertainment market and beloved by VR lovers and VR experience store operators.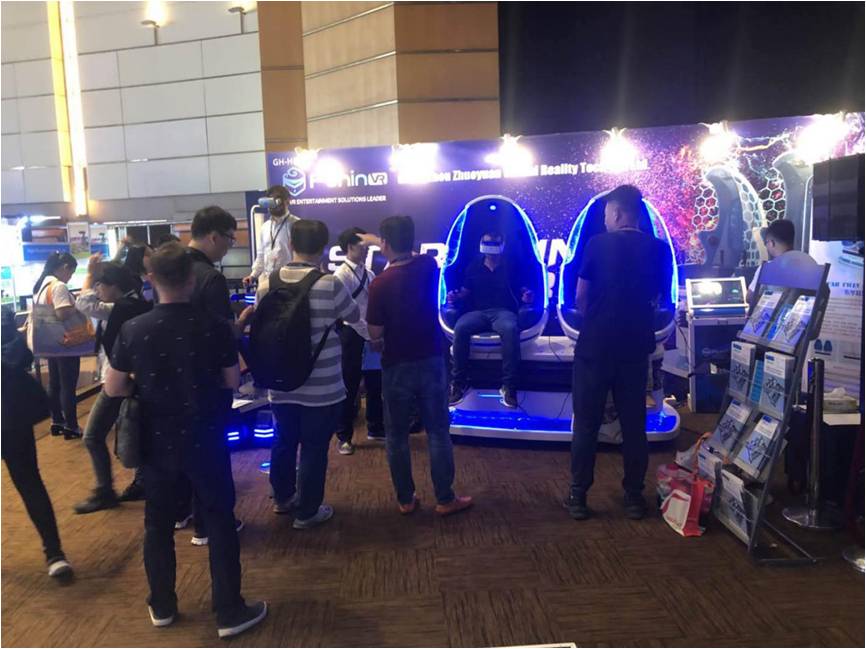 At the exhibition, the exhibited Star Twin Seat VR and Vibrating VR Simulator attracted many visitors' eyes with their showy appearance and high playability. Some visitors felt very exciting when they were invited to try and experience the two VR machines. When they came down from the equipment they claimed that during the experience process, they felt like in a wonder world in which they went through something astonishing and so magic. Yes indeed, the computer simulated scene in the VR world is totally an another world which brings players tones of fun and excitement.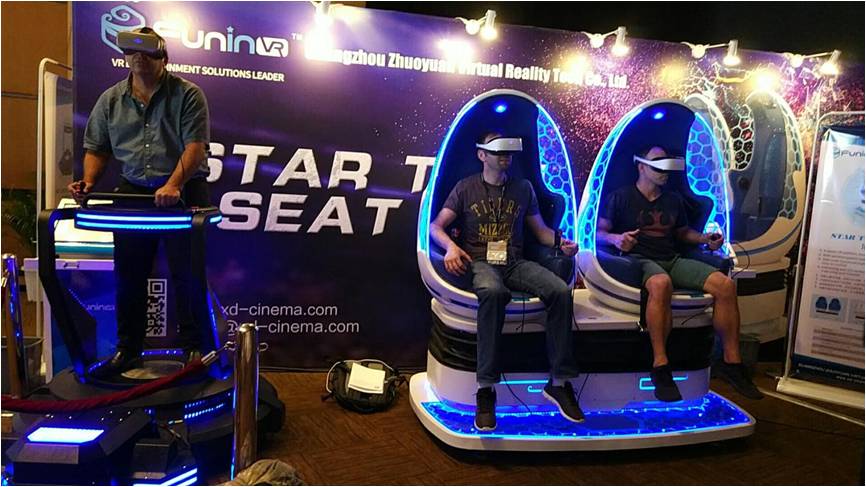 As a pioneering brand in VR entertainment, Guangzhou Zhuoyuan sees the promising future of VR industry, believing the coming ten or twenty years will be a explosive growth period for VR. A lots of authoritative reports have supported Zhuoyuan's vision. According to the Forbes, a prestigious financial magazine, that the year 2017 is a turning point for whole VR industry, things start heading toward the right track. Thus we can safely foresee that the VR entertainment industry is going to expand both in width and height dimensions, any investors who have the wish of profiting from VR entertainment should take actions now. The earlier you are in the industry and market, the earlier you can profit and grow your business with the globe VR trend.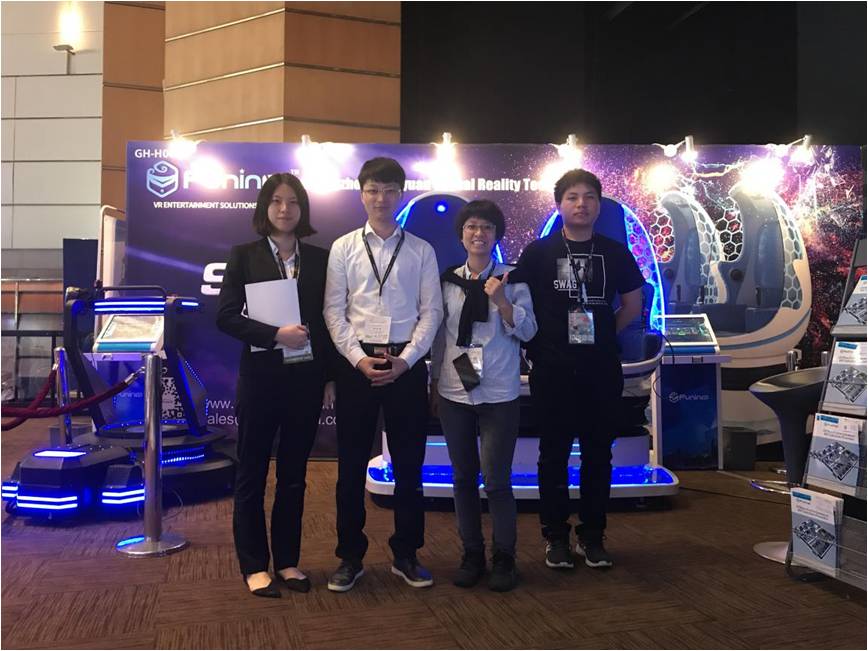 Just like time and tide, the development trend of VR industry and business opportunities wait for no man. Guangzhou Zhuoyuan plays as a professional provider for VR entertainment profit solution, investors all over the world are welcome to come to Guangzhou Zhuoyuan's HQ to make a field survey, experience all series VR products and cooperate with us. Hong Kong Electronics Fair is far from an end stop for Guangzhou Zhuoyuan, on April 18th , there comes another big event for Guangzhou Zhuoyuan, that is the Hong Kong Global Source Electronics. You have guessed it, Guangzhou Zhuoyuan will be there waiting for you. Come and experience our amazing VR products, giving yourself an chance to stay tight with the profitable industry.
Do you want to know more about the virtual reality simulator,  please leave your message, we will contact you as quickly as possible.