MS. Fan has bought a set of three seats 9d vr and shooting game simulator, and she has put them in a small city. Although she do business in a small city, his business is better than the big city.
Her 9d vr and shooting game simulator Experience Pavilion was open in late April. From his 9d vr experience pavilion opening to now, his turnover reached about USD 600 per day. You may ask" Why the business of his 9d vr experience pavilion could so good? " We had an interviewed her for this issue.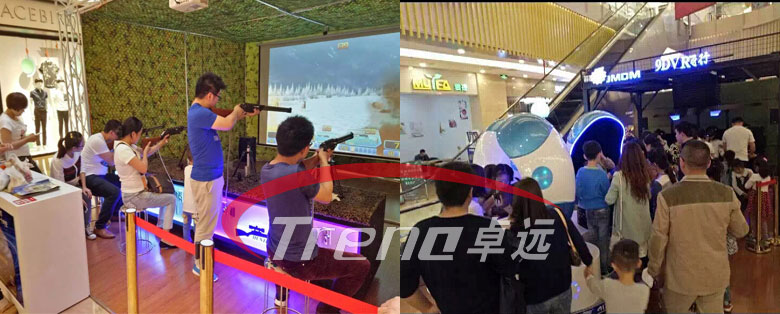 1. She had chosen the right products
Her 9d vr experience pavilion's target groups is children and teenagers. So she had chosen the products which popular with the children and teenagers. For example , the three seats 9d vr, its fashion cool appearance, equipped with tail lights and shoot light, catch the eyes of passers-by. A variety of environmental effects let the children enjoy themselves so much as to forget to leave.
2.She had chosen the right place.
Ms Fan had put the Zhuoyuan 9d vr and the shooting game simulator in a shopping mall. The shopping mall with a high flow of customer traffic and it held some activities almost every week. These shopping mall's activities bring lots of customers to her 9d vr experience pavilion.
3. She often does activities and promotion.
Ms Fan often launch some promotions, for example, hand out leaflets, get the membership card when consumers' bonus points have reached a certain amount, group purchase discount… These activities and promotion help her business kept getting better.
Now, Ms. Fan is planning to open more vr experience pavilions. Her successful experiences tell us that it's so important to choose the right products during doing business.

If you want to know more about the 9d vr. Please leave your  message, we will contact you as soon as possible!