Hydraulic system Luxury Together 5D Cinema
It's a most popular mini theatre, the chair system is hydraulic system with Luxury 9 seats together,adopted with all special effect like lighting, wind, snow, bubbles, rain, which give you a real feeling of the film.
Guangzhou Zhouyuan machinery Co.Ltd is a professional manufacturer of 5D 6D 7D 9D XD movie cinema thearter. We have a very strong technical engineer team and very reliable sales group with better service.
Our products 5D cinema:
5D cinema movie is five-dimensional movie. When we are watching 3D movie we only can see solid pictures BUT now our engineer will bring you into a whole new world and make you immersive into the story. Seats move to 6 dof set and controlled by computer so that when we watch 5D movies with 3D glasses we will catch the feeling of storm,lightning, rain, spray mist, lapping legs,bubble,snow which will be totally different from the old 3D movies.Fresh and exciting because of the good interactivity created by the new device we developed.
5D cinema system:
1. 5D motion seats (effects: water, leg sweep, vibration, face aie ,ear air, push back)
2. 5D special effect system(water spray machine, bubble machine , snow machine, wind machine, lightning machine , air compressor)
5D special effects: wind ,rain,snow,bubble, lightning, fog etc
3.5D special sreen.
4.5d projectors system
5.acoustic system.
6.5D stereo-glasses
We offer 6, 8, 9, 12 seats per set ,customers individual requirnents are feasible.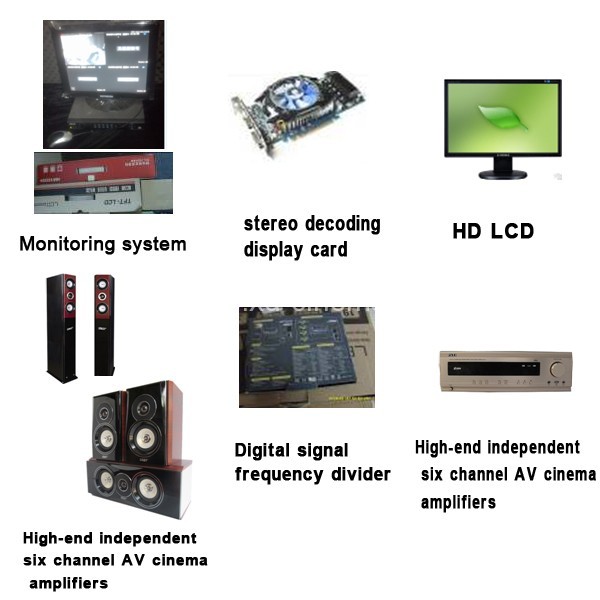 features:
1.Dynamic seats move according to the film story. It is non-pollution,
safe and reliable, there are safe belt and armrest on it.
2.Dynamic seats can go up and down, pitch, and swing. It is reliable.
The over all structure is durable inuse, the designed fixed number of year is 10years
3.The seat material is a special antiseptic material, which can effectively kill several kinds of harmful bacteria.
4.5D Motion Seats are subject to settlement, vibration, touch legs, jet, spray, ear the wind, ears and other sound effects functions; theater accommodated within the snow, bubbles, precipitation, lightning and other special effects devices. The above equipment in accordance with the contents of the film and make the corresponding simulated responses, increasing the audience into the immersive sense of excitement. (Special effects equipment can be made according to customer requirements increase or decrease accordingly).
6-Dof 5D motion seat Concept
4d cinema seat is assembled with 6 hydraulic cylinders, 2 ironplatforms, engine, control unit and air cooler. Along with the differentcombinations of 6 cylinders' up-and-down movement, the upper platformmoves toward 6 dofs, X, Y, Z, α, β, γ, to simulate the real world.Actually, besides 6 dofs, the platform isimproved by adding 8 more movement directions including left-front, left-back,right-front etc

5D special effects
Raining:While the film for a rainy picture, showing the slightest fear of stirring up the hall , which is installed in the hall on top of the spray device consists of computer-controlled to complete, audiences will feel truly about rain fall from the sky, moist his hair and cheeks.
Snow:Simulate snow,Snowflake function is efficiently and quickly acting to man-made snow flying triumphantly sky drift down the screen from top to bottom with snow. Snow on the screen and indoor snow mixed together, a sudden exposure to the audience, and he will be wrapped in silver makeup world.
Smoke:Simulated smoke:Imitate a large number of burning smoke, smoke arises accompanied by "flames" as if the sky in the combustion. Simulated mist curls between clouds flutter in the audience.
Bubble:Generated bubbles fills the air of the reality. Quest in the undersea world and underwater, the divers, aquatic plants and animals due to the role of metabolism, will spit out a number of air bubbles from the bubble machine blowing bubbles in the theater of the drift, alienation between the audience and the theater every corner of the make theater in the lively atmosphere of mystery.
Ear Sound:Seat back of the stereo speakers, in a particularly conditional sounds, the audience can almost feel the stimulation of special effects, as if something on your minds, right you are about to attack.
Motion:Simulates an impact. In the seat is installed below a motor and eccentric wheel to generate the exciting force of about 12Hz to seat vibration. When the movie screen, an object lens and lens impact or landing such scenarios, the instantaneous seat vibration make the audience feel as if being in a virtual reality.