The beginning of the New Year, we have been standing in a new starting line. Next month we will take part in the 2017 Asia Amusement & Attractions Expo(AAA).
Covered an exhibition area of 60,000m2, with 3,000 booths and more than 400 exhibitors, AAA (integrated with CIAE & TPAE) has become the largest event of games, amusement, theme parks and attractions in Asia and the second one in the world.
Such a great event is it that Zhuoyuan can not miss. During the 2017 AAA Expo, Zhuoyuan not only show you the double seats and six seats 9d virtual reality simulator, vibrating virtual reality simulator, stand-up flight virtual reality simulator , infinite space walking platform and the space-time shuttle virtual reality simulator, but also a lot of new virtual reality simulators. Don't miss the good chance.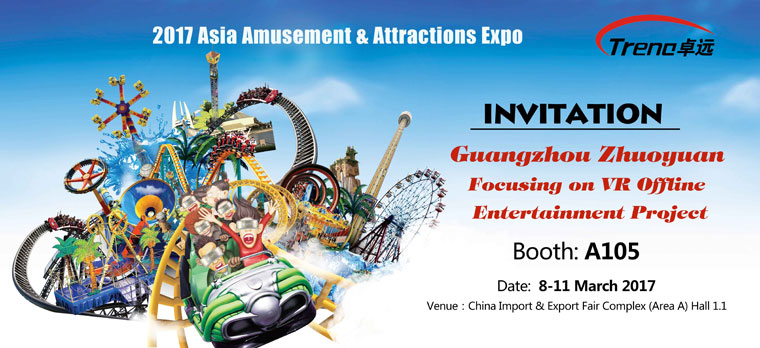 The details of 2017 AAA Expo as follows:
Date: 8-11 March 2017
Booth: A105
Venue:China Import & Export Fair Complex (Area A) Hall 1.1
Do you want to know more about the virtual reality simulator. Please leave your  message, we will contact you as soon as possible!