What's 7d Cinema Simulator Features?
1,Applying advanced infrared sensing tracking technology, grab an infrared gun to join in the interactive game!
2,Multiple players take part in the promotional fights in the same screen at the same time, and share the scores in real time!
3,Vivid three-dimensional pictures with stereo surround sound equipment to create the immersion experience of the game.
4,Many kinds of customized special effects, such as snowflakes, bubbles, leg sweeping, wind, back pounding, butt pounding, ears blowing, flash lights, raining, fire, smoke, etc. to stimulate all senses.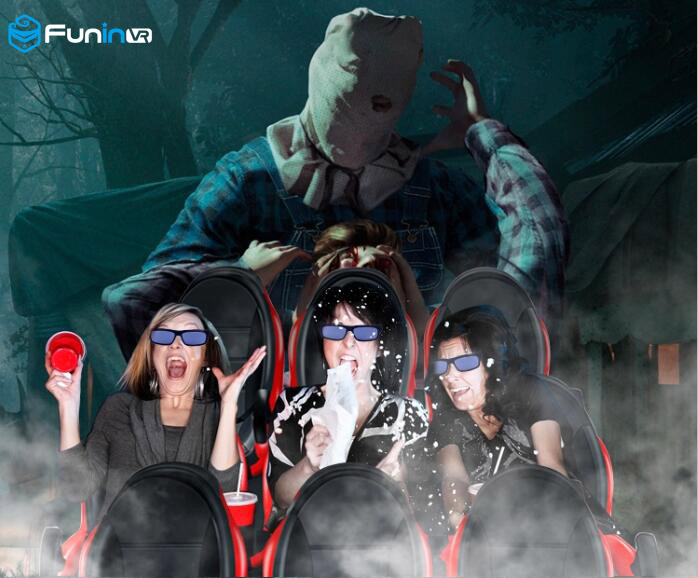 Specifications of 7d Cinema Simulator
Power 2.25KW
Voltage 220V
Power mode Electric system
Movement 6 DOF electric platform
Seat quantity 6/8/9/12 seat is available
Chair effects Back poking, Air injection,Leg sweep, blow air to face, blow water to face, vibration
Special effects Rain, snow, bubble, lighting, wind, fog, smell, fire
Warranty 12months for hardware, Life time service for software
MOQ 1 set
Delivery 7 days after receiving deposit
Package Bubble pack + wallpaper + stretch films + wood frame
How can I make profit from the 7D cinema?
(1) Market activities for opening celebration
For instance, design picture album for publicity, go to malls, amusement center,schools or other high-flow region. And design discounts activities for opening up, experience activities free of charge and so on. Make special cash coupons loved by families, couples, students and other groups, and the coupons can be used as cashes.
(2) Interaction between malls
Interact with large malls, for instance, give five-yuan coupon to customer who buys goods worth 100 yuan at least.
(3) Publicity
Paste posts or play video in open areas, or throw leaflets(used as cash coupons) in downtown streets.
(4) Group purchase package
Team tickets: 50 members a team: $1.6/ PCS, the original price is $3.2.
Student ticket: $0.8/PCS, the original price is $3.2.
Couple ticket: $4.8/ 2 PCS, the original price is $3.2/PCS.
Family ticket: $4.8/3 PCS, the original price is $3.2/PCS.
If you want to know more about the 3d 4d 5d 7d 12d theater. Please leave your  message, we will contact you as soon as possible!