2014 hot sale hydraulic&Electric 9d cinema simulator
The best technology for simulation
The most performance-wise cinema system
The most maintenance-wise cinema system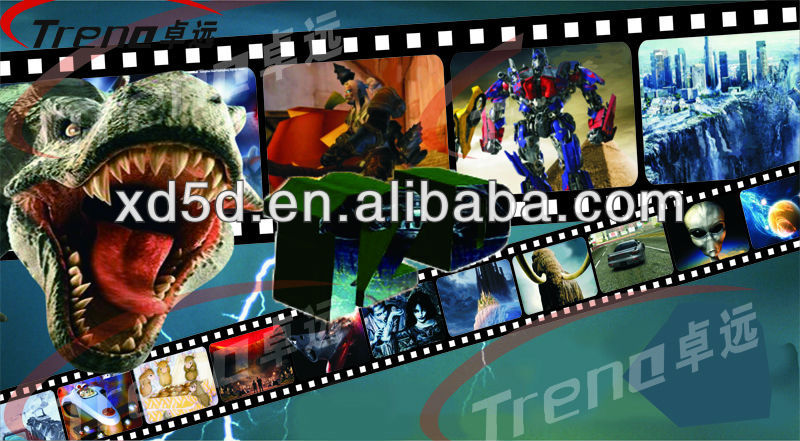 What is Electric / Electronic  9d cinema simulator ?
With the development of cinema&theater technology, first 2D, second 3D, and now comes to 9D cinema simulator. Because people are not satisifed just the films plot and the 3D image, they look for the real simulation, where they feel they are in the film. It gives them different feelings , such as exciting moment, scary moment etc.
Then the invention of 9D cinema simulator allowed us to plunge in the world of virtual reality, this technology is a perfect combination of 3D images and effects produced by the special equipements upon the human perceptive organs.You become totally involved in what is happening on the screen, and feel movements, rays of sun,wind blowing and humid air of ocean breeze etc.
So more and more people see this opportunity to made money from this area because of it's small risk  and fast return.
Electric /Electronic 9D cinema is the best cinema among all motion cinemas, outstanding feature:
— Best performance;
— Simplest structure;
— Most energy saving;
— Fastest and more smooth seat action;
— Longest lifetime;
— Nearly no need maintenance.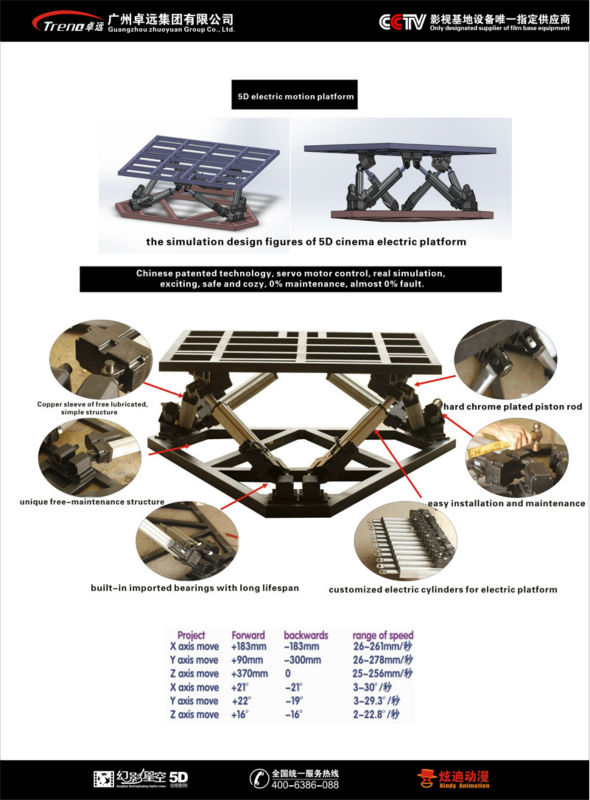 The biggest advantage of our Electric / Electronic 9D Cinema system :
Our electric 9D cinema comes with the acceleration of the movement speed. There are 3 options for the movement speed
• Slow
• Original
• Fast
It suits for people from 6 years old to 70 years old. For young people can adjust the speed to Fast, you will enjoy the most exciting feeling together with the fastest speed stimulation.
Electric / Electronic 9D Cinema
9D control system
Computer controle system with 9D software, effect box and 9D movies
Seat system
6dof/2dof dynamic electric seats platform
3D image system
NEC projectors, and HD metal screen falt or curved
Audio system
5.1 digital sound system: 2 main loundspeaker, 2 surround loudspeakers, 1 subwoofer and 1 power amplifier
Special effect system
special effects in seats: Leg tickler, Ear wind, Back push, seat vibration, Butt poker

special enviromental effects: Snow, Water-spray, Bubble, Lighting, Wind, Smog, Fire, Aroma

Management system
with auto-shooting camera inside and software to caculate how many people everyday watch the movie.
What is 6dof Electric 9D cinema seat system ?
Electric seat platform: Best technology for simulation. It has very fast reaction for the instant command of the controller.
2 pistons (2DOF): The range of the 2dof movement is bigger than 6dof with very strong stimulation. Even it can throw you out when bending front/back. The cost is lower than 6dof.
6 pistons (6 DOF): Best and only technology used in professional simulations. It can lift/drop, spin, wave, etc… For electric 6dof, we use high power servo motor imported from Taiwan, each motor at least 1.2KW. It ensures that the seat platform can bear the weight of 1200kgs, as well as ensures the seats motion with precision.
Electric & Hydraulic 9D cinema seat platform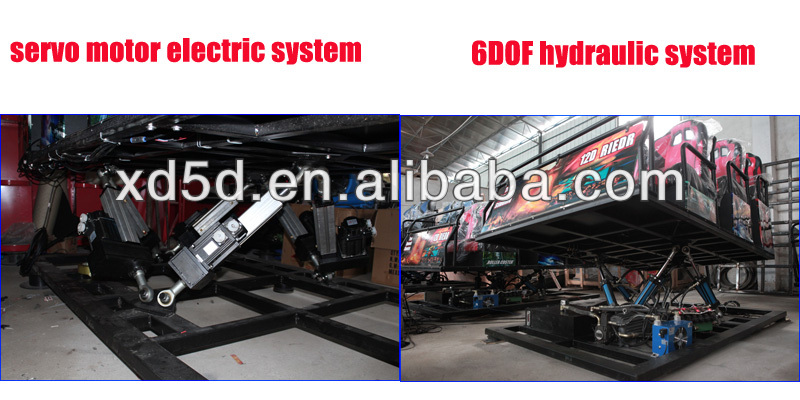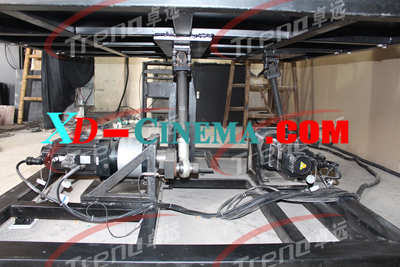 Standard chairs for Electric 9D Cinema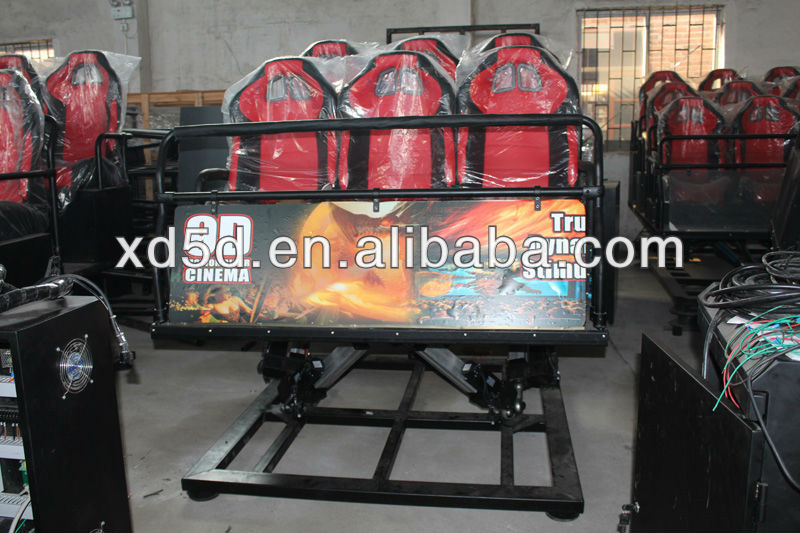 Luxury Fiber Glass Chairs for choice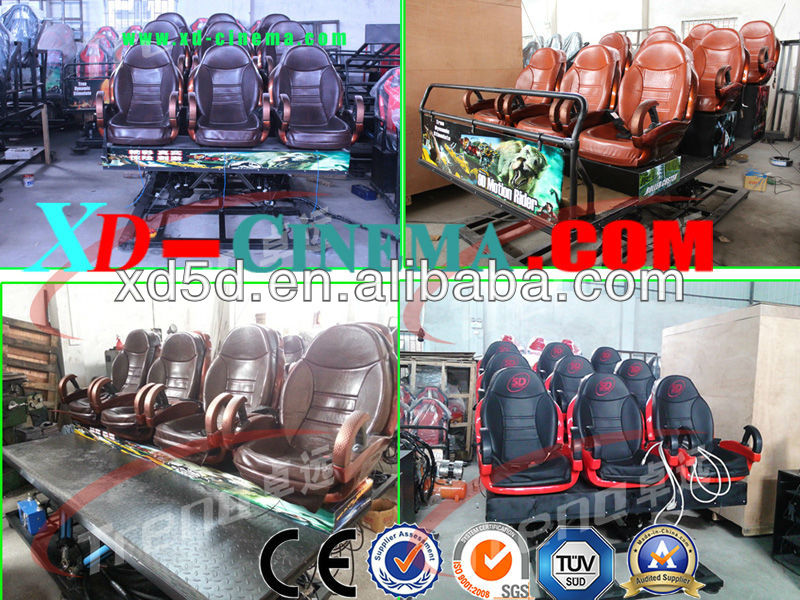 Special effects in  9D cinema Simulator
• Leg tickler                  • Back push
• Butt poker                  • Ear wind
• Face water jet            • Face air blow
• Water-spray               • Snow
• Bubble                        • Wind
• Lighting                      • Aroma
• Fire                              • Smog
Water spray effect
When it rains in the film, it rains outside. Water spray effect is a special effect equipment to create raining scene.
Bubble effect
Travel undersea or in a fantastic forest, bubbles will be spited out from bubble machine and filled the room. It's romantic and you'll finally realize "Oh, I am in the dream world".
Leg tickling effect
Simulates insects and arthropod creeping on your leg.
Strobe lighting effect
With thrilling scene and extreme weather, audience will be scared by unexpected stunning lightning, just like the theatre is involved in a thunderstorm.
Blowing wind effect
Is there any better effect than a chilly wind when you are focusing on a horror film, or a fierce wind when you are taking an adventure in the forest? Wind effect shows a direct feeling you expect on the movie.
Smoke effect
Imitate a large number of burning smoke, smoke arises accompanied by "flames" as if the sky in the combustion.
Fragrant effect
The flowers in the movie are so fascinated, with fragrant effect, the simulated scene is just perfect!
Fire effect
It's not the real fire but a simulated tool to create an image like the place around viewers is on fire.
Snow effect
Actually we offer many films with the theme "SNOW". Snow effect works really well. It's fun and fascinated, create a emulational atmosphere.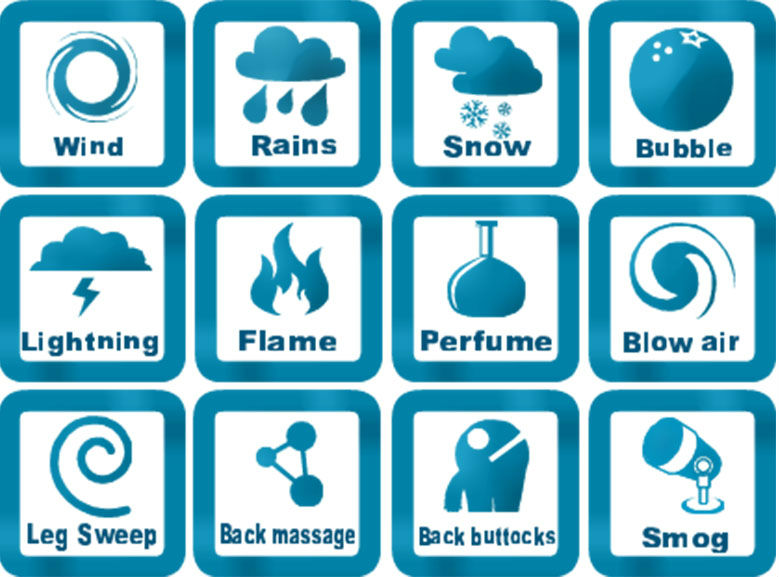 Return on investment (ROI) ( 9D Cinema Project)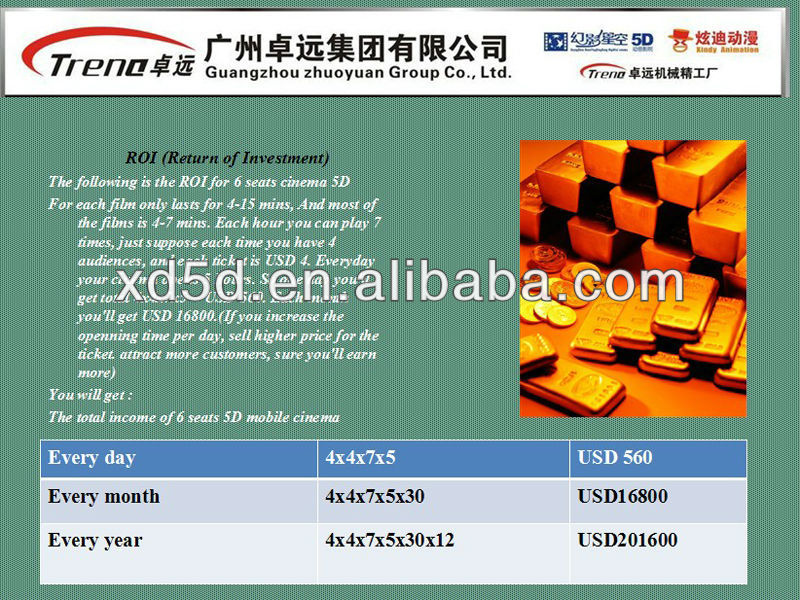 Return the cost within short time and ear big and quick money.
9D movies for Electric / Electronic 9D Cinema
We have our own professional team program the normal 3D movies into 9D movies. So besides the 70  9D movies we will give to our customer for the first time, every month we will update 2 latest new movies.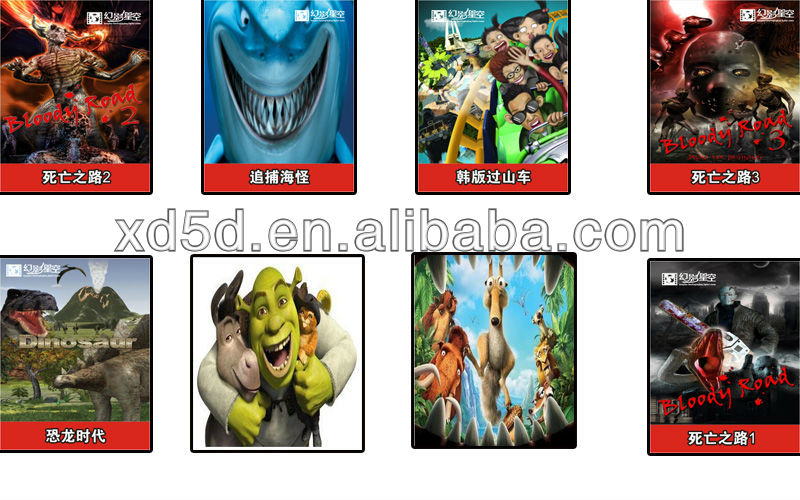 Installation
A: You can come to China out factory in person or send your engineer, we have our professional technician teaching you how to install and operate 9D and tranning you.
B: If you prefer do the installation by yourself , then we will send you installation instructions, video and diagram teaching you how to do the installation one by one.
C: If you need our technician being your location for installation, we can send one technician there. But you will need to bear the visa fee, accommodation and round-trip ticket of our technician.
One full year factory warranty
We offer you one full year factory warranty. During this period we will offer you online maintenance  for free and supply for free the damaged key-parts excluding the projection screen and the lamp of projectors induced by non-human factors.
Our 7D 8D 9D Cinema project in Indonesia