What is F1 Racing Car Simulator?
F1 racing car developed by Zhuoyuan Group, a leading international dynamic control technology, electric cylinder six degrees of freedom dynamic platform, truly closely integrated with the game. You can complete the dive, climb, tilting, turning, rotating, falling, bumps and other difficult thrilling action from the dynamic driving control, audio, ultra-realistic simulation aspects give users experience.
F1 racing car support many games, not only support large dust Rally game series, Formula F1 racing series, also supports the Super Touring Car series. Track numerous game scene from Norway to Monaco, from the plains of Africa and then to China Lijiang, the track number more than 100. Models everything, including Fox, Citroen, Peugeot, Toyota, Mitsubishi, Audi, Renault, Abbas, Fiat, BMW, Hummer, Infiniti, Ferrari and so on. At the same time contains many different game play modes, allowing you to enjoy in real life it is difficult to experience the thrill of racing.
F1 racing car brought unprecedented ultra-realistic experience, to fill gaps in the domestic car market, but also brought unlimited business opportunities. It does not just apply to amusement parks and theme parks, but also can be used for science exhibition hall, vacation spots, private business club, Racing Club, racing simulation teaching, auto 4S shops, high-end real estate sales, hotel, KTV, game room, large cinema, home theater, auto, aviation exhibition, publicity display various large-scale events.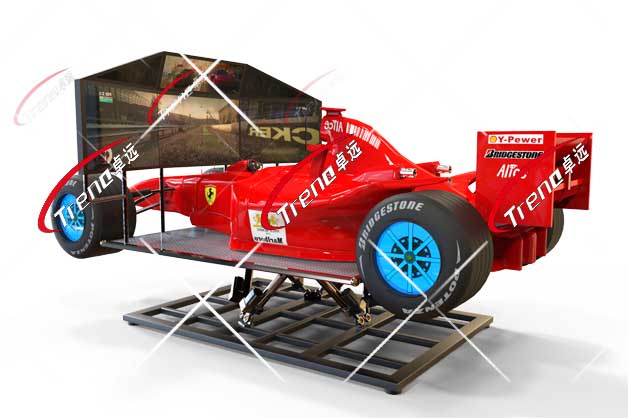 Product Principle
The main hardware products include: computers, three-screen high-definition display, professional simulation steering wheel kit, professional motion controller, servo motors, electric cylinder six degrees of freedom platform, F1 racing car body. The driver through the steering wheel to control the game, dynamic control system based on body posture rotation within the game is controlled by professional motion controller servo motor, servo motor drive electric cylinder linear motion, tilt back and forth to form, tilt, rotate the level around the pan, about translation , rising and falling six degrees of freedom.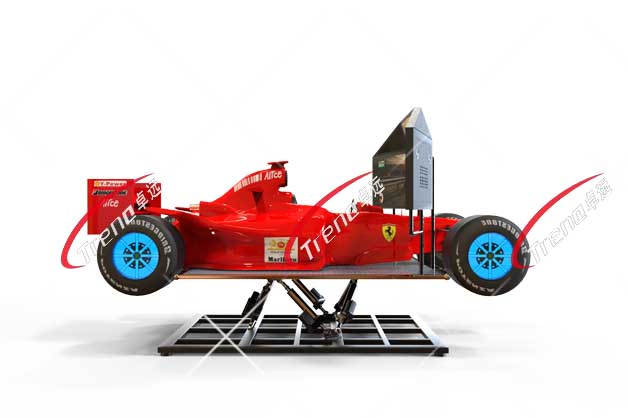 More Detail About F1 Racing Car Simulator
Power  
Item
Volt/KiloWatt
Voltage
AC 220V
Total Power
5.1KW
Dimension           
Item
Millimeter
upper platform length
2450
upper platform width
1650
Nether platform lengt
2450
Nether platform width
1650
F1 car body length
4350
F1 car body width
1700
Total height
2000
Screen size/per (3 screens)
42 inch
   Rotation Angle     
Movements Items
Maximum parameter
Front to back degree
Downward 18.50°,Upward 18.50°
Left to right degree
Downward 18.50°,Upward 18.50°
Horizontal rotating angle
Turn Left 10°, Turn Right 10°
Upward translation
350mm
Front-back translation
150mm
Speed of Movement  
Movements Items
Maximum parameter
Front-back tilt
42.06°/s
Left – right tilt
38.10°/s
Up-down translation
350 mm/s
Center rotation
25.0°/s
Front – back translation
250.1mm/s
Left – right translation
280.2mm/s
Weight and Loading
Item
Kilogram
Net Weight
600KG
Rated Loading
200KG(500-300)
Games varitey
Item
Value
Racing Car Games(Optional)
 F1 2010/2012/2013
Why choose us?
1.14 years manufacturing experience, the top three Brand in dynamic simulation industry.
2. Clients from more than 120 countries.
3. Almighty and a perfect master program.
4. professional team to provide you professional technical support.
5.24 hours professional sales team work for you.
6. All of our products have passed CE certification.
7. Our technicians can go to different countries to help customers solve problems.
After -sales  service:
1.Dispatching our technician to your location to complete the installation and teach you daily maintenance.
2.No damage to human factors, one year warranty, life-long maintenance.
3.Lifetime free software upgrade.
Our customer cases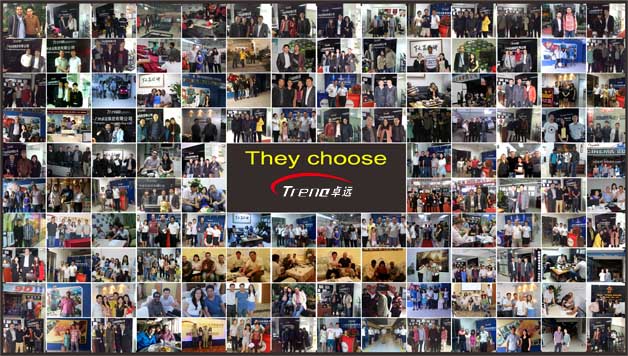 If you want know more about Zhuoyuan F1 Racing Car Simulator. Leave you  message, we will contact you as soon!