Zhuoyuan Amusement 5D Motion Cinema
Che cosa è il cinema 5d?
L'invenzione del cinema 5D ci ha permesso di immergiamo nel mondo della realtà virtuale, questa tecnologia è una perfetta combinazione di immagini in 3D e gli effetti prodotti dalla speciale attrezzature sugli organi percettivi umani.
Si diventa totalmente coinvolti in ciò che sta accadendo sullo schermo, e si sentono movimenti, raggi di sole, vento che soffia e aria umida di brezza dell'oceano, ecc
Our 5D cinema / theater based on 3D stereo cinema / theater and professional motion / dynamic hydraulic seats/ chairs has added various kinds of environmental effects including lightning simulation, rain simulation, snow simulation, smog simulation, bubble simulation, hot drop dropping, vibration, air blast, mist spray, leg tickler, ear wind, ear sound and etc.
Reddito di 5D Movimento Cinema


Full set 5D cinema equipments including
1. 5D dynamic system: hydraulic & electric motion dynamic seats system
2. Audio system: 5.1 digital sound system: 2 main loudspeaker, 2 surround loudspeakers, 1 subwoofer and 1 power amplifier
3. Special effects system: special effects in seats: Leg tickler, Ear wind, Back push, seat vibration, Butt poker, special environmental effects: Snow, Water-spray, Bubble, Lighting, Wind, Smog, Fire, Aroma
4. 5D projection system: customized projection screen, EPSON/NEC/SHARP/PANASONIC projectors
5. 5D control system: Computer control system with 7D software, effect box and 7D movies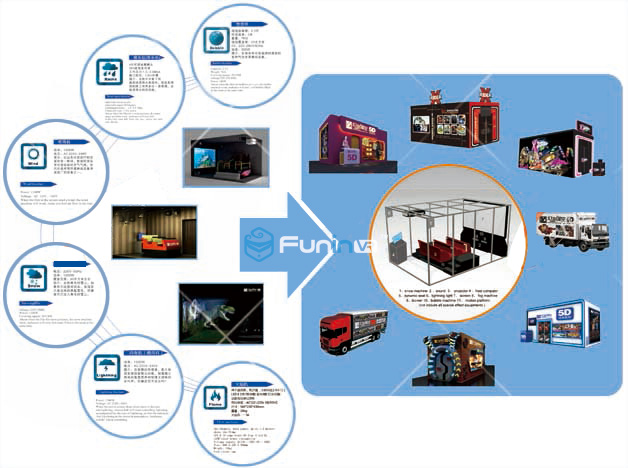 More style theater chair for you choose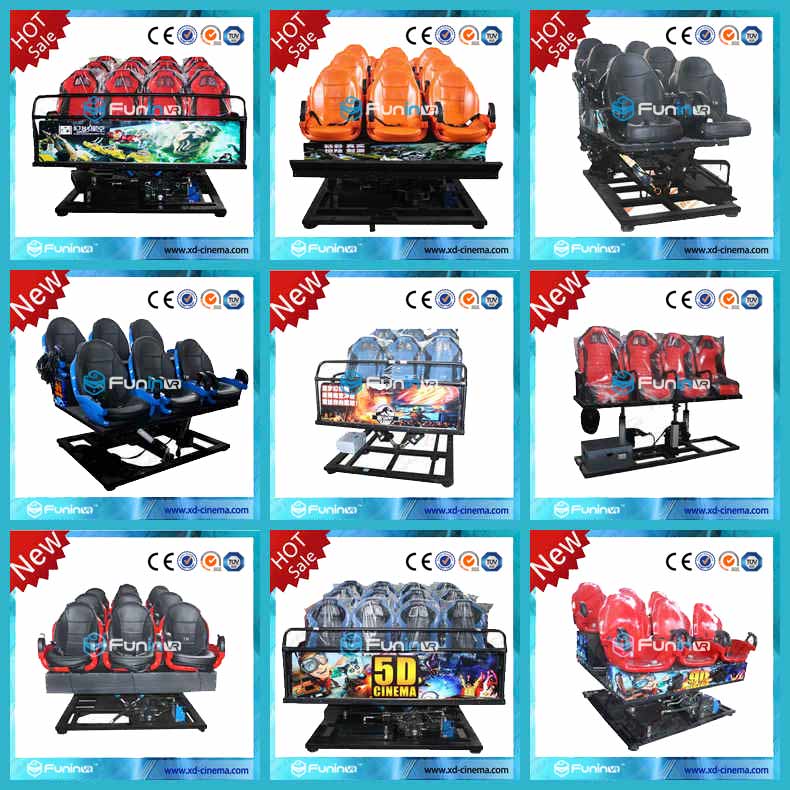 Latest 6dof

Platform

Tecnologia
1. Platform feature of electric dynamic technology:
The electric platform consists of six strong electric cylinders with six independent motors, and two parallel iron platforms. The motors control cylinders to move up and down, and then cylinders push the platform to move from different angles.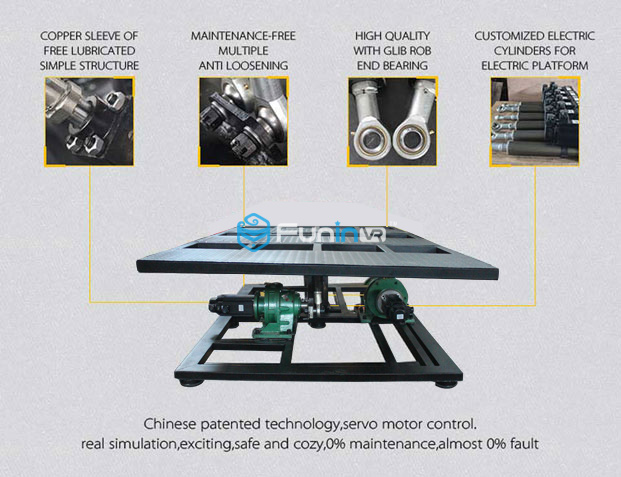 2. Platform feature of hydraulic dynamic technology:
The hydraulic platform consists of six hydraulic cylinders, one motor, one oil pump, one oil box, six solenoid valves, one cooling fan and two iron platforms. The control unit transmits signal to motor and solenoid valves, which drives the motor to work. So motor provides power for oil pump, and it prompts oil to run towards solenoid valves. When solenoid valves receives signal from control unit, it will open and close in time. So that oil can enter the oil tubes and provide pressure for hydraulic cylinders. At last, the movement of cylinders leads to platform's working.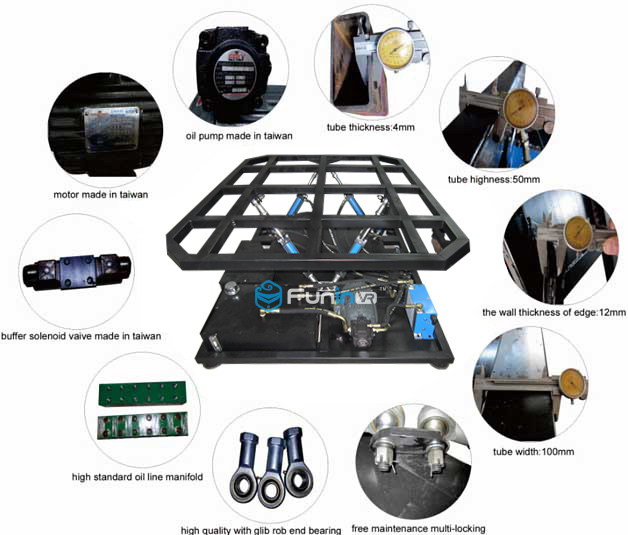 Our customer cases
If you want to know more about Zhuoyuan Amusement 5D Motion Cinema. Leave your message, we will contact you as soon as possible!